It's 2023 goal-setting and planning season.
My favourite strategic goal-setting tool is Objectives & Key Results 'OKRs'.
OKRs help set goals, measure and track progress.
Here is how it works…
Components of OKRs With An Example
There are three parts of a good OKR – Objective, Key Result and Initiative (aka 'Key Action').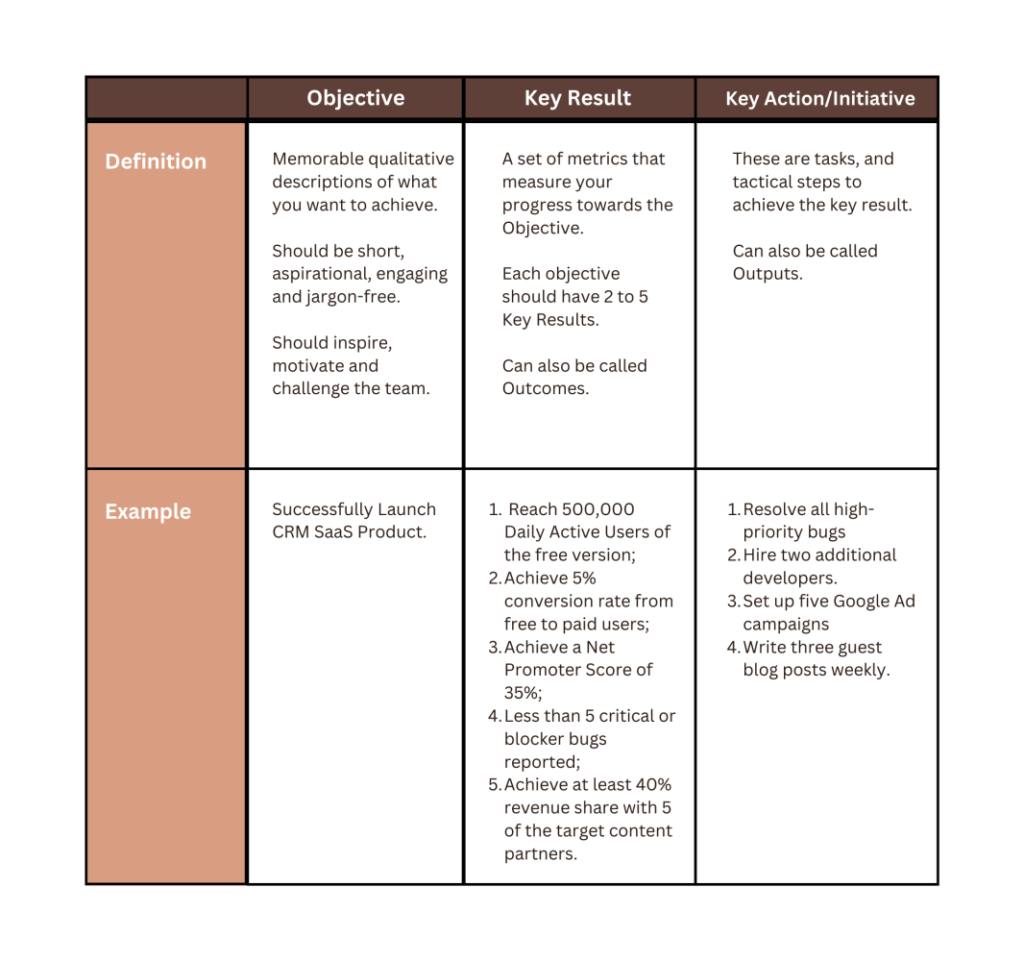 Key Benefits for OKRs
OKRs are defined based on the business's mission and vision. It improves alignment across the organisation.
It is a flexible framework that reflects the business's management hierarchy. There could be one or multiple hierarchies of OKRs depending on the business' management layers. Each OKR hierarchy reflects the granularity required and relevant at each management level.
The level of OKR granularity also determines how often a review may be required. E.g OKRs for the senior management level may only need to be reviewed quarterly. Whereas, a more granular version of the OKR may require more frequent reviews.
In a small business or business with a flat management structure, here is our pictorial representation of how OKRs could translate into a traditional project management hierarchy: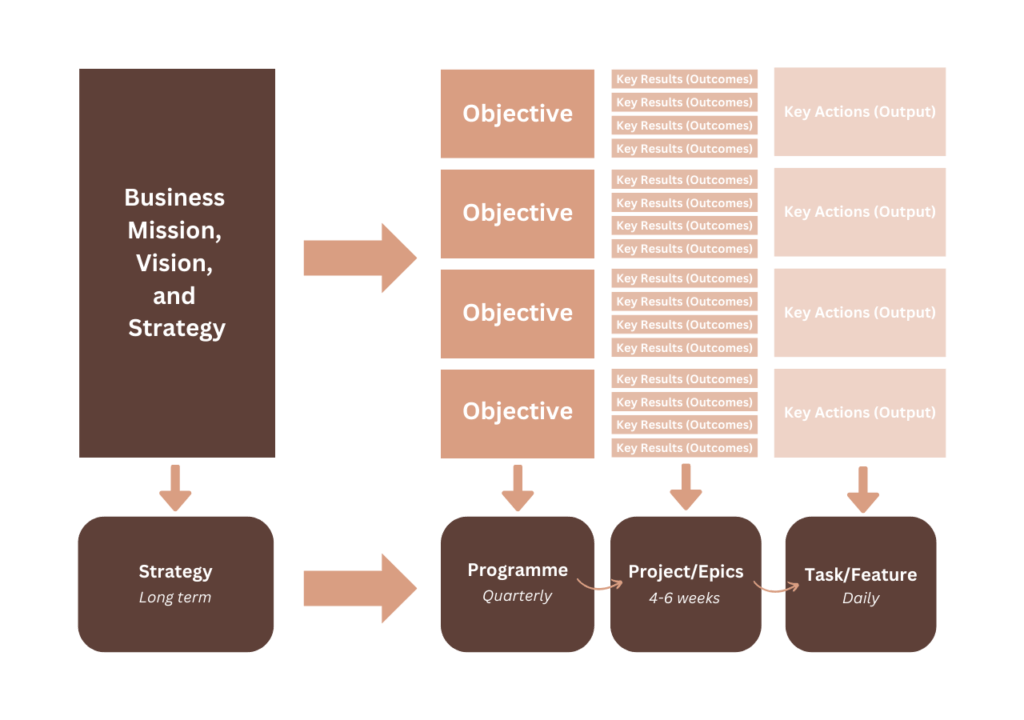 In a large, enterprise business, there may be several layers and hierarchies of OKRs with progressively granular definitions as you go down the management chain.
OKR Retrospectives
OKRs are not to be set once and forgotten.
OKRs should be reviewed, assessed, and if necessary modified at a pre-defined frequency.
The exact frequency of review would depend on the level of granularity of the OKR.
For example, senior management OKRs are usually reviewed quarterly while mid/ junior management OKRs are usually reviewed monthly.
Here are four categories of questions to be used to drive the OKR retrospective session:
1) Right Objectives:
Did our objectives capture our team's intent and direction for the quarter?
2) Right Key Results
Did we set the bar too high? Too low? Measure the wrong results?
3) Right Focus & Organisation?
Did we organise well to execute and achieve the results in the past period?
4) What Changed?
What internal and external dynamics changed? How will that affect the next period?
FAQ – What is the Difference Between OKRs vs Traditional Goal-Setting?
OKRs offer a better structure and format.
OKRs distinguish between the qualitative, quantitative and tactical parts of a goal.
It shows the relationship between the various components.
FAQ – What is the Difference Between OKR vs KPIs?
Key Performance Indicators (KPIs) are used to measure the output, quality or quantity of ongoing activity. They are permanent metrics to watch. They monitor performance and identify areas for improvement.
OKRs are the bridge between the status quo (current state) and ambition (future state). They help take a business into new territory. They are temporary actions to take to help achieve a goal. OKRs help drive innovations.
OKRs and KPIs are complimentary, tracking KPIs provide insights into what is working well and what needs improvement as the team delivers the business strategy.
OKR Best Practices Guidelines
OKR requires good change management and helping to adopt the new mindset. It is therefore recommended to have an OKR coach. DM me if you need help.
Less is more. Too many OKRs would be difficult to track.
OKRs should be aligned with the Company's Mission, Vision and Strategy
To improve the level of engagement, the team should be involved in OKR definition.
Create a clearly defined rhythm for OKRs – define when OKRs are defined, reviewed, updated and closed.
Using the OKRs framework in your business can be a great method to define your team's goals and determine the best metrics to evaluate the success of these goals.
They're also an excellent tool for collaboration since everyone on the team is able to know how they contribute to the overall goals.
If you're planning goals for your business team, take keep these suggestions to keep in mind when you are developing your plan.
Here is to smashing your 2023 OKRs and having your best year yet! 🥂
Happy Holidays – Happy 2023! 🥳
Follow for more actionable best practices and lessons learned from digital transformation projects.
#thechangehive #objectivesandkeyresults #OKRs #businesstransformation #goalsetting #okrframework #successmindset #objectives #goals #keyresults #KPIs